B-comi, Ltd. is a results-driven marketing and PR agency in Tokyo, Japan.
Since the foundation in 2006, we have successfully provided marketing and PR support services to both domestic and multinational companies of all sizes, ranging from startups to large enterprises. We are a boutique agency that is small but has highly skilled workforces. Our bilingual team, comprised of PR planners certified by the Public Relations Society of Japan, ex-journalists and an ex-marketing and PR managers of IT firms, has broad experience and expertise in the relevant field.
We tailor our services to meet your goal and budget. With a proven track record of social media marketing success, we have already enjoyed a reputation as a flexible and highly efficient PR agency in the Japanese market. We excel at related supports for, among other things, enterprise software vendors, embedded software houses, IT security firms, network service providers, iPhone application developers and other IT companies.
Many of our clients are European and North American companies including NASDAQ-listed ones. While we have sufficient experience in performing PR activities within Japan on behalf of our clients that have no base within this country, our services are available in other parts of Asia through our partner agencies in such regions.
We specialize in
Specialties

Public Relations
(Press conference, Press release distribution, 1on1 media interviews and news monitoring)
Product Launches
Branding
Direct Marketing
Analyst Relations
Social Media Management
Online Advertising
Partner Channel Marketing
Blogger Engagement
Lead Generation (Campaign, Trade Show Management)
Our Leadership
Kyoko Kato - President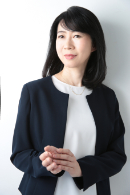 Kyoko is the founder and president of B-comi., Ltd. She has led her professional team of B-comi since its foundation in 2006. She has 15+ years of experience in marketing communications and public relations with significant expertise in IT marketing arena.
Kyoko commenced her professional career as journalist for a notable IT-related magazine and online media. Later on, she served for several technology-related companies as PR/Marketing Manager, and participated in the establishment of the Japanese subsidiary of a global CRM company. Prior to founding B-comi, she was Marketing Manager of a global ERP vender.
Kyoko is also engaged in writing activities in various media as well as giving lectures for enterprise and organizations. She is a champion of social media for internal and external corporate communications. She holds a MA in international communication from Aoyama Gakuin University.
See our reputation on LinkedIn.